Our restaurant. Fresh modern European cuisine
During the week we open our restaurant on four evenings – on three days we are supplied – with the best that nature has to offer just at that moment: Seasonal vegetables, fruits, meat and fish.
These high-quality basic ingredients form the development of our monthly changing multi-course menus, from which you can also order all dishes à la carte. One of the menus is always vegan/vegetarian! It is – sometimes also at home stove – tinkered and tried, discarded and recomposed, until a feast for the palate arises. A feast that meets Michael Quendler's high standards for his own culinary art – and which also satisfies the critics of the Guide Michelin. This is proven by the michelin star we've got since November 2012.
Are you traveling by electric car? As our guest, you can use one of our charging stations or our Tesla destination charger free of charge.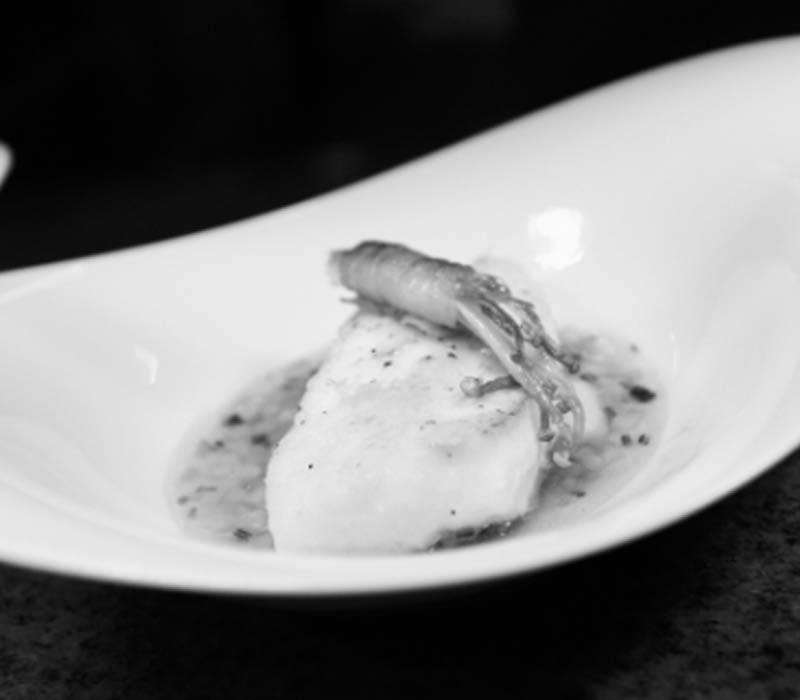 round about 650 selected drops
The Vinothek is the realm of Birgitta Quendler, who has already worked as a sommelier in renowned restaurants. And so the wine selection at Mühlenhelle is clearly on her menu: In the foreground are German and Austrian wines as well as a large selection of sparkling – and sweet wines. Of course, lovers of wines from the classic European growing regions as well as from the New World also get well served.
But the Vinothek is not only a wine cellar, or a meeting place for the individually arranged wine tastings there, but also for small parties of up to 10 people who want to dine in a small circle. Connoisseurs who want to have their aperitif or digestif there before or after visiting the restaurant – surrounded by some of the selected wines stored in the Mühlenhelle, will also find a place here.
You would like to make a reservation?
+49 (0) 22 61/ 29 00 00
Down-to-earth Austrian - regional cuisine in our Mühlenhelle - bistro.
Michael Quendler was born in Klagenfurt and grew up with the specialties of Austrian cuisine.
The Austrian delicacies are served in the Mediterranean ambience of the bistro, as well as on the idyllic garden terrace under white parasols. The opportunity for our younger guests to let off steam between courses on the playground in the garden – while the grown-ups enjoy, for example, a glass of Riesling or Blaufränkisch. On Sundays and holidays er alos offer typical Austrian pastries – specialties with coffee.
In our Mühlenhelle – Bistro we also serve vegetarian and vegan dishes.